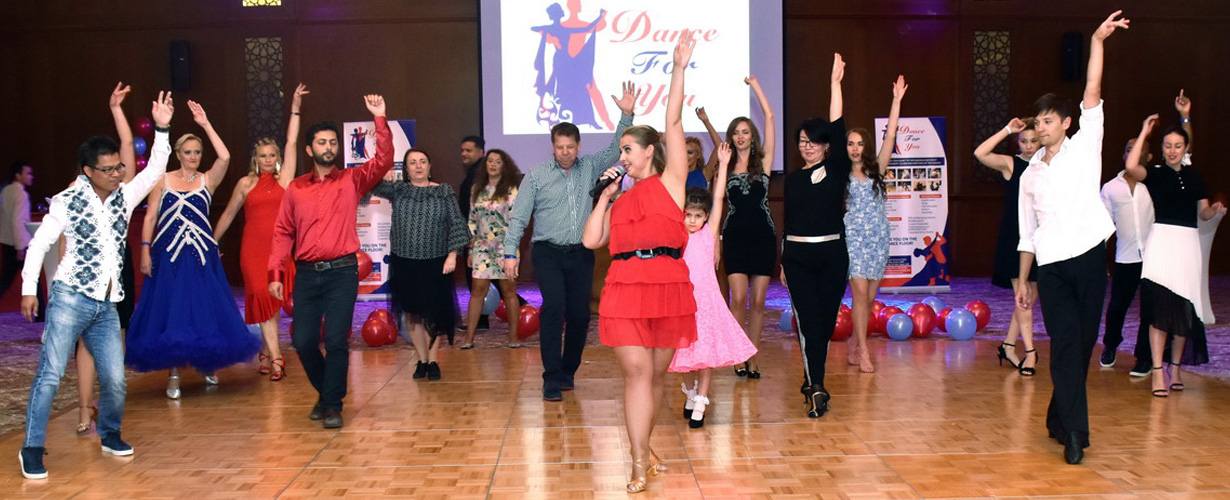 Summer Gala Dance Evening 2018
This year the annual Summer Gala Evening was across the panoramic view of the Magnificent Indian Ocean! During the two days, the 4th and 5th of May 2018, our dance school prepared different activities: from dance master classes and showcases by professional instructors, to dance parties and other social activities!
Dancing as an activity where imagination has no limits unites only creative people, both professionals and amateurs, regardless of the age, profession or nationality. The first weekend of May Fujairah, another incredible emirate of the UAE, joined Dubai and Ajman in the list of the "dancing" emirates. Energetic dance classes and tremendous dance performances gathered pretty talented members of the enormous Dance For You community to enjoy dancing at the scenery place this time.
For the first time ever, a luxury hotel Al Aqah Beach Resort (Miramar) fantastically contributed to Summer Gala Evening at our dance school, an annual enjoyable dance event. Mountain air, Sandy beach, Indian Ocean after all, what else might be welcoming all newcomers to a hotel? This time quite surprisingly it was dancing. And not only spectacular dance performances were dazzling the guests. They were also provided with the outstanding dance lessons as well as entertaining water sport activities, therefore diversifying the pastime of that very weekend.
Since we all as humans are a part of a big society socializing plays a very important role. Few people know that this skill should be developed. That's where dance classes at Dance For You studio represent a splendid opportunity to meet new people. Surprisingly not just random people, but apparently the ones with the similar likings, establishing the long-lasting friendship.
Like all the previous Gala evenings from Dance For You team which frankly speaking always leave an unforgettable impression, either it is the first Pro Am Dance competition within the dance school premises or a unique historical birthday celebration, the last Gala has definitely left no one indifferent. A breathtaking location gave "its own icing on the cake" as in "another day in paradise". Marvelous view, super happy facial expressions, sincere exciting emotions, terrific energy, all this were "the key features" at the specially arranged dance floor at the Smart Hotel, Miramar on the 4th and 5th of May. The place where considerable amount of positive energy prevailed throughout the weekend, surely energized every single one of them, either dancers, performers or simply guests for a pretty long time ahead!
More than 3 hours were full of constant dancing: impressive showcases from our guests (English Waltz, Rumba, and Argentine Tango), striking performances from our gifted students, refreshing social master classes, not ballroom dances this time (Salsa, Merengue) and a mind-blowing dance from Dance For You team to a smashing song by Imagine Dragons, Believer.
Merengue Master Class.
Flamenko Showcase.
Rumba Showcase.
Dance For You Team Showcase.
Cha-Cha-Cha Master Class.
Afterparty Dance.
It was the first social DANCE project relocating all the dearest students with their huge energy and drive to absolutely new and outstanding premises such as "Mother Nature". It was quite challenging but totally worth it. Since nature has a great impact on humans, that incredible location was chosen on purpose, because when it comes to a profound exchange of supreme energy and vibes only the magnificent and powerful Indian Ocean can notably be there! Dance For you team is proud to announce – We've made it! They say, the first step is always the hardest, we say the first step is always the luckiest, especially with the endless enthusiasm from our favourite students.
Our dance studio looks forward to new, phenomenal projects, to make this already incredible and unpredictable life more colorful and unbelievable. Come and see for yourself, we are waiting for YOU at Dance For you studio in Dubai.
Other articles you may like: