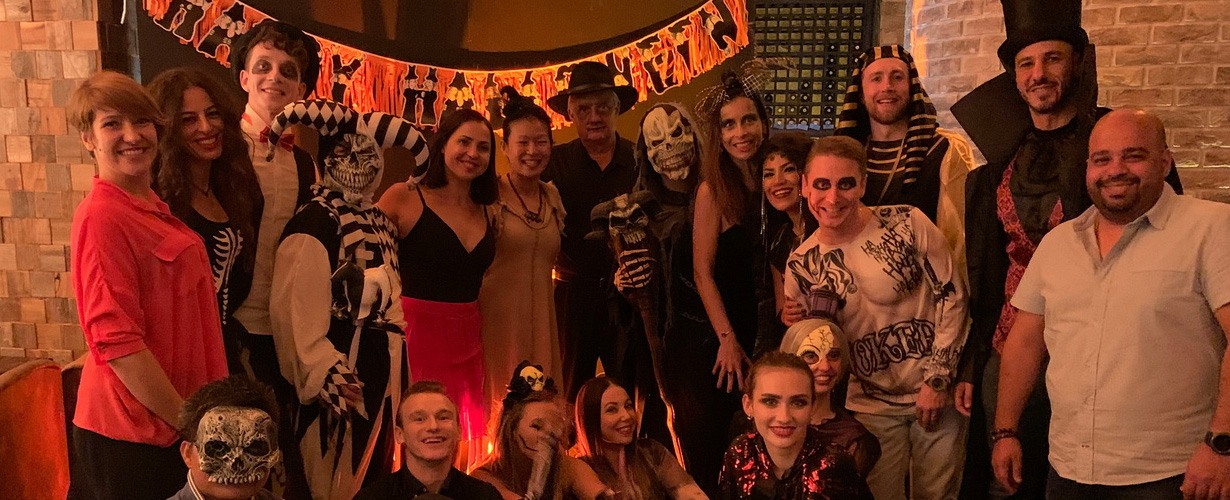 Halloween 2019, in a Dancing Way and More…)
To have fun in a luxurious bar on the scariest night of the year or to have fun DANCING in a luxurious bar on the scariest night of the year – this is not a dilemma for our big and talented DANCE FOR YOU community at all. Our dearest students always go for the best choice – have fun, enjoy life, show off their grace with beauty and surely DANCE among people with the same fantastic taste. Halloween 2019, the adventure begins…
Ten months ago Dance For You team announced the year of the Pig as a year of "Dance resolution". For the whole our team and all DANCE followers who always strive for the best the current year has been giving an opportunity to get the unimaginable things from this unpredictable world of dancing. This Halloween party is a perfect proof of us keeping that promise. This year Dance For You team has prepared something special for our dearest students – two Halloween parties, almost in a row where each of them has been marked by something special. Any ideas by what?!
The outgoing week of October 2019 started in a pretty unexpected way. Nobody ever hoped to have a chance to dance within a dancing studio to energizing tunes played by a well-known worldwide DJ DMITRI. A regular but definitely much expected social practice of ours this time resulted in a true-to-life night party where people danced their shoes off next to a famous DJ playing his music specially for the dearest students of Dance For You studio. An hour and a half of complete dancing, an hour and a half of fantastic joy created by people who feel the same way we do about dancing. For the first time ever in the UAE Dance For You studio made our students feel as if they've travelled far away from the dancing studio, as if the magic carpet replaced them in an instant to a European dance floor with its never-ending flow of music and surely dancing!
The first dancing studio in Dubai has been always on the cutting edge of all the latest dancing specialties. That is why our students are pretty lucky not only to get involved into the healthiest pastime in the world but also come across amazing people who happily share their "dancing taste" on a ballroom floor. Besides, the traditional dancing workshops under a professional supervision of dance instructors provide with both: basic but quite enchanting dance combinations and lots of exciting and energizing emotions which stay with a dance admirer for a pretty long time afterwards. Basically one usually benefits from different perspectives. Luckily, it's all about dancing…with Dance For You studio!
Sergii and Melita Halloween Dance.
Dance For You Halloween Social Party.
Kathryn and Sergii dance Slow Waltz.
Halloween Social Night 2019.
"If you can dream it we can help you dance it" – it's been our motto while throwing parties like this. Surprisingly not only within Dance For You premises but also outside our dancing community is highly welcomed at any dance floor. ZOCO Bar is one of the recent locations where we kept dancing and celebrating Halloween 2019 through all night long. Dancing is ART that each and every member of our team is blessed to be skillful in. We are well-known to give Ballroom, Latin-American and Social dance classes. However, it doesn't limit us to being professionals only in one sphere. We enjoy sharing passion for dancing with people on both: professional and social levels which seem to be much appreciated.
Once you are about to let dancing into your life, now YOU are 100% aware of WHERE to find mind-blowing Latin-American tunes and what is more… likeminded people! Dance For You is waiting for you to hit the dance floor together next time, either in a spooky outfit or professional exquisite ballroom shoes. It's only your choice, just let us know!
Other articles you may like: