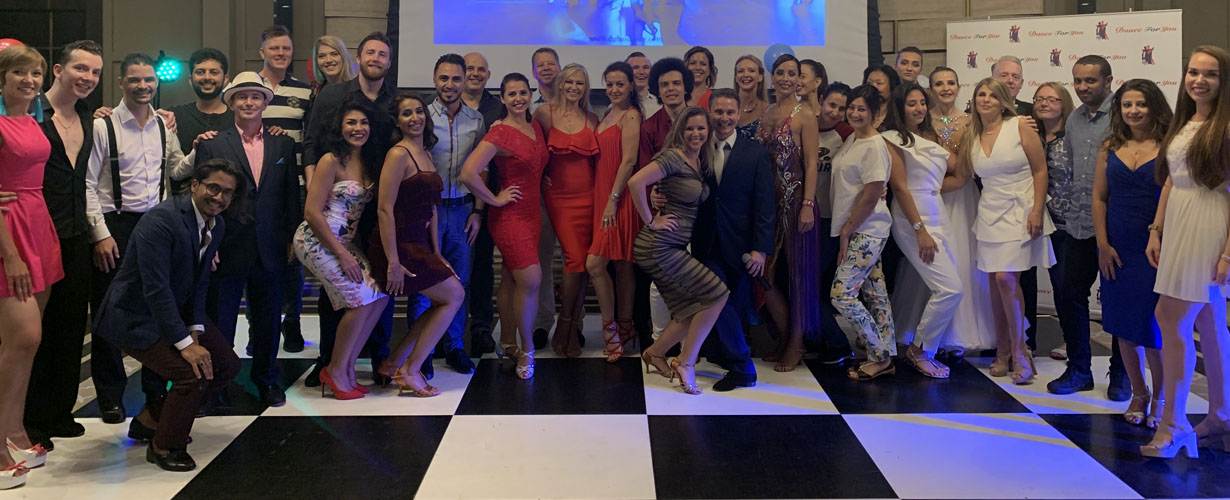 Summer Gala Evening 2019
Dancing always starts in September or… does it?! Summer Gala evening 2019 proves the opposite.
Hey, if you are looking for a never-ending summer time then YOU are welcome to Dubai, the UAE. And… if you are looking for an everlasting entertainment then YOU are more than welcome to Dance For You studio, one of the most professional dancing studios worldwide. Have a look at the way lots of residents of Dubai recently enjoyed dancing at a Grand Summer Gala evening, one of the regular and most – awaited events of ours!
The dancing season tends to last almost a year. Starting usually from September it gives our students plenty of opportunities to dance and "to grow" in dancing on various levels. Whether it is Gala events within the premises or international dance competitions, the students, being as talented and diligent as Dance For You instructors, constantly gain experience and sharpen their "dancing" skills. All this results in a fantastic free-time-activity. The outgoing dancing season was successfully wrapped up by a varicolored Summer Gala Evening, 2019.
This time this event has been characterized as a dancing resolution for many people because a great deal of dancing awards has been widely acknowledged. Throughout a year talented students of Dance For You studio have been achieving big and small awards while enjoying this "dancing" adventure under a professional supervision from our dance instructors. Every single member of our team feels deep joy watching absolutely different people learn something new, make a healthy-lifetime-habit, make new friends and enjoy life. That's why we gladly provide people with such an opportunity throwing parties like that.
The Persian Gulf has been once decorated with magnificent Palm Islands where one of the nicest Palm Jumeirah stands out from high above. That is the exact place which welcomed and gathered numerous Dance For You family to spend a Summer Friday night by socializing, chatting, having snacks, all in all having time of their lives. Dukes Oceana kindly provided our dancing studio with an awesome venue where every single one of us couldn't help but dance and rock that night.
Sergii and Ute @ Summer Gala Evening 2019.
Social Party @ Summer Gala Evening 2019.
Bill and Helena @ Summer Gala Evening 2019.
Lubov and Abdo @ Summer Gala Evening 2019.
Oleg and Alexa @ Summer Gala Evening 2019.
Oleg and Lubov Professional Showcase @ Summer Gala Evening 2019.
The event itself is usually organized for the sake of emotions simply because they keep human beings alive. Whereas super positive emotions and feelings, our dancing community gets from our regular events, mainly prolong life. Ballroom and Latin-American dances are widely known to be an elegant and exciting "remedy" to all the so called "sicknesses". For that reason professional dance showcases from our dance coaches as well as Pro Am dance performances from our pretty experienced amateurs were granted to all the guests and visitors. To our great surprise, according to the feedback these very performances kind of inspired all the bystanders to dive into this dancing world straightaway and be on the same exciting wavelength.
What is more, even those shy at first bystanders had a chance to dance, to feel the beauty and ease of dancing right at first sight, right at the first step. That is where social dancing came in handy. Various dancing styles, glamorously dressed people, a tasteful dinner buffet made that night. Samba steps together with Slow Waltz movements alongside Salsa dance combinations give a person a tremendous advantage represented by a unique ability to feel the world to the well-known rhythmic tunes. Come and join Dance For You studio whether in a hot sunny summer time or in September, in the official beginning of a new Dancing Season you will have no regrets at all but plenty of energy to DANCE.
Other articles you may like: